Introducing Managed Cybersecurity
PointProtectTM is a comprehensive and practical approach to Cybersecurity for small and mid-sized businesses.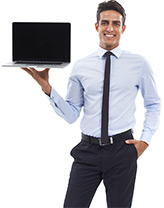 Cybertheft increased by 100% in 2017 because small and medium-sized businesses are now under attack. Cybertheft can cost your business its reputation, competitive advantage, and customers. Introducing a practical cybersecurity program with a single point accountability. TechSolutions has launched a practical, top-down approach to cybersecurity that integrates good business practices, innovative technology, and training. PointProtect™ is a new way to change your firm's thinking about IT Security and better protect your business...step-by-step.
Our approach provides a complete solution for small to mid-sized businesses with a methodology that includes solid recommendations and access to specialists in IT, HR, communications, training, insurance, and innovative technology.
PointProtect is a set of services each designed to contribute to a complete Cybersecurity Program. Learn more about each individual program and let the security consultants help you develop the program that is right for your business. Read more about the Management Briefing, HR Policy Development and Managed Security Services.
The PointProtectTM Cybersecurity Program will:
Protect the company's clients, intellectual property, finances and reputation
Introduce cybersecurity as an important piece of your culture
Reduce the number of cyber threats that enter the network
Increase awareness of cybersecurity threats and company procedures with your staff
Introduce management practices to support a new culture that protects the firm
Deploy innovative security technology to test, detect and monitor for all network intrusions, and threats
Building a Cybersecurity program for small to mid-sized businesses:
Talk to us about a better approach to Cybersecurity for your business