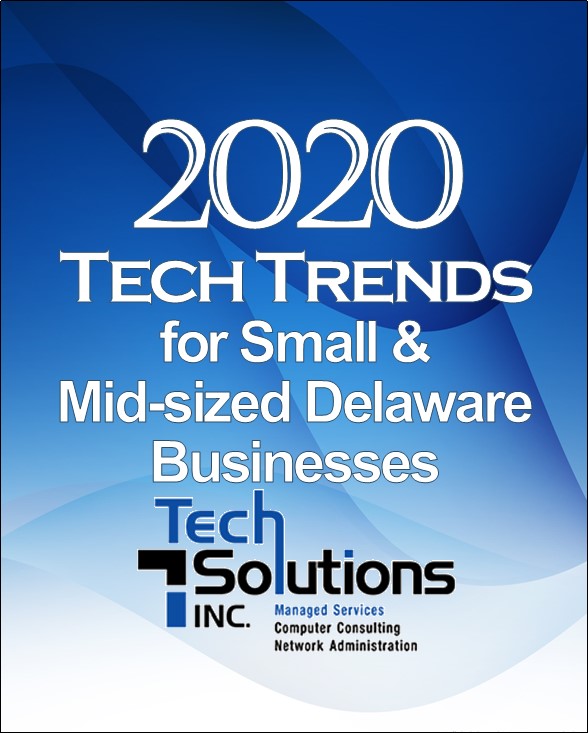 Every year, we try to look at different ways the world is transforming as we examine some of the technology trends that will influence small and mid-sized businesses. Below are several trends we have researched and identified as becoming more and more prevalent in 2020.
1. Profit Over Investment Before Election: After two years of sales growth and high employment, as well as a pending election, business owners will be optimistic this year, but will not spend too aggressively. Many business owners are holding the line on all budgets and maximizing profits for the last year before the election. We expect this to be true for the technology budget as well. This year, IT investments will focus on security, staff augmentation, and automation.
2. Millennial Managers Drive Collaboration: The workplace will be increasingly influenced by the rise of millennials into management positions in addition to the tight labor market currently in effect. These new managers will stress inclusion over exceptionalism. Team goals, team awards, and department bonuses will accompany work flexibility, technology-enabled remote staff, and comforts in the workplace. As a result, we will also see the emergence of new work auditing and performance measurement tools.
3. AI Used in Different Stuff but Doesn't Take Over: Familiar technologies including Artificial Intelligence (AI), Machine Learning (ML), and speech recognition will emerge as features integrated into new smart devices, tools, and systems this year. Your favorite devices across the home and the office will begin integrating AI to add new features and functions. For example, your new wireless headphones might start learning commands and gestures to save a little time or effort. Or perhaps, your bed might learn to adjust to your nightly sleep patterns. Firewalls, security cameras, TVs, and monitoring devices are doing the same. Just look at the 2020 Consumer Electronic Show held just this month in Las Vegas. AI, ML, and data-enabled devices will begin to change what you expect this year.
4. Extended Reality Happens for Training: Virtual and Augmented Reality have been promising technologies for years … too many years. However, the cost of content development is coming down as tools to build simulated environments have emerged. These new tools can rapidly create virtual environments needed for training, job simulation, and roleplay so that the technology can take its place in being useful for job training and skills assessments. Future applications will include customer training as well.
5. 5G and WiFi 6 Emerge: The next leap in speed for your home and office networks will bring about serious changes in data-driven tools, automation, and robot-supported life. This next step will allow computers to talk to each other faster than the human brain can. The increased bandwidth will be required for self-driving cars, improved security, and telemedicine. Not only will it be much faster, but we will also connect 50 times more devices than we do now. Standards are still being worked out for both 5G and WiFi 6, but with so much at stake, this might be the year it gets resolved.
6. Digital Assistants, Cobots, Exoskeletons Enter the Workplace: This year, we see the incremental leap to augmenting employee performance with physical and cognitive tools. In the office, Cortana, Alexa, and Google devices will begin to provide information access, voice-to-text communications, and office entertainment. The full ironman suit is a few years off, but the next step is Exoskeletons and Collaborative Robots (Cobots). Upgrading a factory so that cobots work alongside existing legacy equipment and human workers is an attractive proposition for many small businesses, and, as it turns out, is less expensive than full automation. Regarding ironman suits introduced at this year's CES, Delta Airlines is testing a new exoskeleton to help make the job that baggage handlers perform easier on the bones and muscles.
7.California's EU Style Cybersecurity Rules to Impact Delaware: This year, California's more aggressive cybersecurity and data protection laws will be fully in effect. These laws, which went live on January 1, will regulate IoT devices, tighten policies on data collection, raise standards for data storage, and provide consumers new rights to accessing their personal data collected by various businesses. There will be a bit of amnesty as the first fines won't be delivered for about six months. Historically, what starts in California is often copied by Delaware lawmakers. So watch out!
8. More Technologies Become Available in "Subscription Economy": We always watch for technologies to become accessible to small businesses via subscription, and this year looks to be big. When Salesforce acquired Tableau Software, we saw a flurry of moves by other large platforms to integrate new data analytics packages into their software. Amazon now offers Blockchain-as-a-Service, and AI will soon be offered as a service for increasingly specialized applications. During 2020, no small company will have any excuses left to not use AI, Blockchain, or Business Analytics software.
9. Uber Ecosystems Emerge: In Hong Kong, Uber is pushing new ideas that are also scheduled to roll out in planned communities in the US. Imagine delivery of food (Uber Eats) expanded to include groceries, dry cleaning, pet care, and handyman services. Additionally, there are plans to include new transportation ideas stretching all the way from Scooter services to Air Shuttle services to downtown city locations. Homes, businesses, and lifestyles are optimized for outsourced 24x7 services delivered at a low cost.
10. Cybersecurity as Brand Differentiator: Companies that spend additional monies to protect their data will try to leverage those investments as part of their value proposition. This year, we will see more firms marketing "cybersecurity" or "data privacy" as part of their brand pitch. They will be most visible with national brands who will promise not to sell your data, but also promise to keep it safe. Close to home, professional services firms will take the lead by promoting safe guest WiFi, a secure internal network, and document protection as a differentiator.
By Rich Kenney