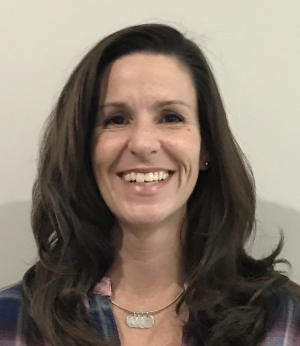 Name: Kimberly Wagner
Title: Bookkeeper
Kimberly has a critical role at TechSolutions and it fits right in with her strengths and talents. As the bookkeeper, she helps make the company "Easy to Work With" because she is responsible for ensuring that all invoices are complete, accurate, and clear. And, if there is a problem, Kimberly resolves it with a friendly smile.
Kimberly is a mom, a volunteer in the community, and an expert at working with people. She graduated from Meredith College in Raleigh, NC with a degree in Business Administration and a concentration in Accounting. She takes pride in getting the details right. "My role is to triple check your invoices, and make sure that things are correct. I like the math, but most of all, I love working with people." She understands that small mistakes take a lot of time to resolve. "Invoices that are not clear waste time and break down trust," she says. "It's easier to do business with a company that gets the details right." And, if there is a problem, she tries to treat people as business friends. "I like to be polite and friendly … it's a Southern thing."
When Kimberly is not working at TechSolutions, she spends her time with family. She, her husband, and their four kids enjoy watching sports together, especially NC State Wolfpack games, which stems directly from her North Carolina heritage. She enjoys watching her children's performances, sporting events, volunteering in their schools and supporting animal rescue projects in the area.
---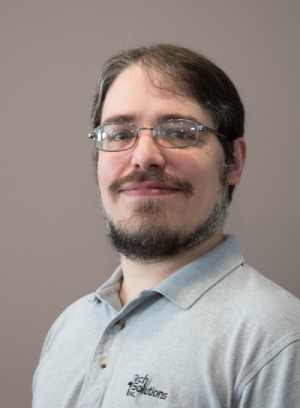 Name: Chris DeVito
Title: Systems Engineer
Chris is a graduate of the University of New Brunswick where he majored in Business. He never drifted very far from IT, partly because he was raised with computers. His father was an IT executive with DuPont and subsequently, was transferred all over the world. Whether in Singapore, North Carolina, Towanda, Boston, or Wilmington, Chris and his family talked technology and computers at the family dinner table starting at Chris' ripe old age of 4 years. At age 12, he was diagnosing motherboard issues on the family computer correctly. He believes he can fix almost any computer problem … it's his passion.
Chris joined TechSolutions in 2012 and is currently a Systems Engineer. He has extensive experience in many Microsoft technologies including server and domain management, server migrations, Hyper-V setup and management, Exchange, Azure, and Office 365 just to list a few. He provides escalation support for client backup systems, server replication issues, and security incidents. He also delivers end user support for many clients ranging from law offices to construction companies to medical facilities.
His daily goal is to help someone and help them wear a smile. Recently, Chris was the on-call technician for TechSolutions. He took a phone call from a very confused 68 year old woman (not one of our clients) who had just been scammed by a computer phishing scheme. She had already lost $400 by divulging her credit card information to the crook. Although clearly not his job, Chris helped her in every way he could. He spent his afternoon helping her lock down her computer, change her passwords, remove the malware, and submit claims to get her money back.
Chris lives in Pike Creek, Delaware. He previously served as a Firefighter and EMT at the Hockessin Fire Company. He enjoys hosting Dungeons and Dragons tournaments at his home with his friends, camping in the outdoors, and animals. Additionally, he loves reading, watching videos, and tinkering with mechanical things. Chris is one of the good guys who makes a difference by helping others.