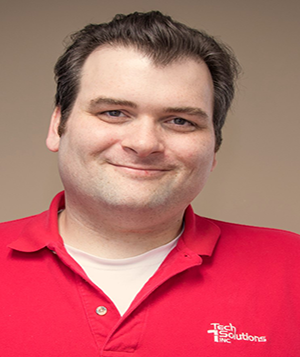 Name: Tyler Foster
Title: Technical Service Manager
Hometown: Wilmington
Nickname: "Dr. Know"
Tyler has been working with computers 19 years since he was 11 years old. He built his own computer when in he was 12 and began helping friends and family fix problems with their computers at age 13. He graduated from Christiana High School and then studied business and computer science at Wilmington University, graduating with a business degree in 2012. Tyler has since received training in Microsoft, Datto, Dell, Azure, ConnectWise, Labtech and 12 other technologies that we use to support our clients.
He now leads a team of technicians who collaborate to solve problems and support our clients. Tyler believes that his role at TechSolutions is to motivate and enable our techs for success. He focuses on encouraging them to creatively solve problems, taking pride in their work, and collaborating with their teammates and the clients. Tyler makes sure that our technicians are well-trained, enthusiastic about helping people, and able to receive the support they need for success with every client. Tyler is one reason our staff members are so reliable and easy to work with.
Tyler is engaged to be married and currently lives in Bear.
"I believe that today's IT environments require a special kind of technician who is well-trained, motivated to help others, and willing to work as part of a team. I'm proud of the group we have here at TechSolutions. This is the best team I've ever worked with."
Tyler Foster
Technical Service Manager
---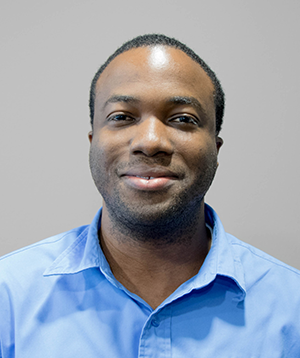 Name: Samuel Hall
Title: NOC Technician
Hometown: Elkton, MD
Years of Service: 6 months
Sam was born and raised in Jamaica and spent most of that time in Kingston. He and his family recently moved to this area due to a job opportunity that his wife wanted to pursue. Sam has been working with computers for 30 years, since he was 7 years old. His college degrees include electronics, computer science, and business administration. He also holds technical certifications with Cisco, Microsoft, and most of the hardware and software vendors he is exposed to here at TechSolutions. Sam started playing with computers early in his childhood and was fixing computer problems for area businesses when he was 12. Sam built his first computer at the age of 16 and started selling computers with he turned 18.
Sam enjoys helping people and solving difficult problems. He is quick to analyze a situation and then provide a solution the first time. His strengths include hardware, networking, and software solutions, and he works hard to keep his education current. He is presently studying for two more industry certifications, and he is teaching computers to his 4-year-old son (who is a wiz already).
Sam is married and lives with his wife, Loraine, and their 4-year-old son in Elkton, MD.