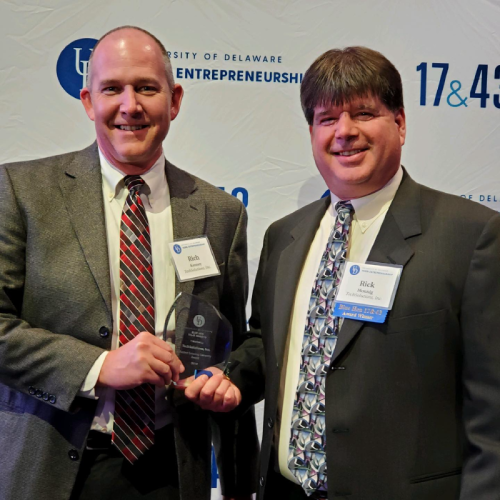 Besides feeling good, adding another plaque to the wall, and eating another steak dinner, what does winning another award really mean?
Since 1743, the University of Delaware has established a proud tradition of leadership, innovation, and entrepreneurship. The Blue Hen 17 & 43 Awards build on this tradition through the annual recognition of 17 of the most promising new businesses and 43 of the fastest-growing companies founded or led by UD students and alumni.
TechSolutions is proud to be one of the 43 winners for the second year in a row. The networking, the food, and the drinks were grand; the speeches were motivating; and the opportunity to visit with our peers was nice too. Yet, that is not the real point.
When business owners win awards it means something special. For most of us, it means that our ideas are working. But it also provides a chance to acknowledge the people who believed in those ideas and came to work every day. Success would not have happened without the staff performing their job duties … even on weekends and late at night when it mattered. Thank you to our fantastic staff!
Holding the award also makes me think of our clients. They trusted and believed in us when we were just getting started, and they stayed with us during growing periods like the last two years. Doctors, lawyers, office managers, and small business owners all believed in the promise that we could do a better job than anyone else could. We love our long-time clients, and we are also very appreciative for the newest ones. Thank you from the bottom of our hearts!
And finally, winning an award like this helps to acquire the perspective that drives us to help others. Sure, the hardware gets placed on the trophy table … but winning it is a constant reminder to always try to help others grow their businesses. For us, that may mean saying yes to a prospect who is starting a new business that shows promise for growth but does not currently have the characteristics we look for in a potential new client. Winning should remind us to give back and pay it forward.
17 promising businesses and 43 of the faster-growing companies left the October 10 awards ceremony with a new trophy. Hopefully they also thanked their staff, respected their clients a little more, and reaffirmed that they will continue paying it forward. Because of those extras, another evening away from my family and another steak dinner turned out to be something special.
Thank you to the University of Delaware for contributing to our community in more ways than you can ever imagine.