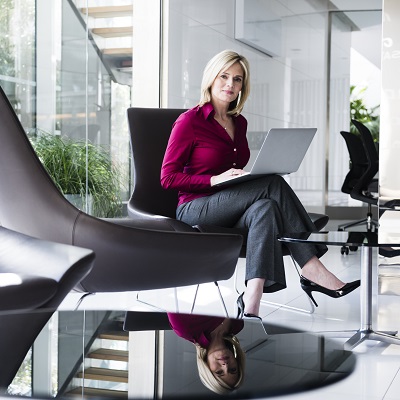 Shakespeare said "Love all, trust a few, do wrong to none" … I think this is good advice in life and in business. So, every time I hear this phrase, I wonder how to become one of the "trusted few". There are many ways a business can gain the trust of its clients or potential clients. Providing a safe and secure digital environment is now the newest and most compelling way to demonstrate your commitment to being a good business partner.  Here's why:
A Safe and Secure Environment Makes a Good First Impression: Every reasonable business wants a polite and welcoming person to greet guests as they enter the waiting area by the front desk. You might post awards and plaques; you might display your membership certificate for the Better Business Bureau or Chamber of Commerce; you might display vendor certifications from your business partners – all to make a good first impression for clients. Good businesses will soon greet their guests by assuring them that they are in a safe and cybersecure office.
Easy Internet Access Makes You a Good Host: You offer your guests bottled water and hot coffee, a comfortable conference room, and even a pen and paper to write on. A good host understands and anticipates that guests will come to expect to easily be able to connect to the internet. That should be considered standard practice for many businesses.
Cybersecurity Projects Strength: You post signs announcing that you have engaged a security firm to provide physical security for the site to not only discourage thieves but to inform your guests that your office (and their records) are physically secure. The vault at the bank is often placed where the public can see the thick steel doors leading to it. A sign warning of a guard dog onsite sends a message to those who read it. What if businesses start announcing that they have taken measures to protect their clients' data and digital secrets with visible signs? We think that would send a message to guests as well as would-be thieves.
Data Security is Cultural: You post your mission statement on the wall, so your staff is reminded why they are there every day, and some also post their mission statement so that their clients can see it too. It tells your clients what is important to your business. What if you posted a slightly humorous message about cybersecurity as a reminder to the staff? We believe signs like this around the office would also signal to your guests that cybersecurity matters. It's a culture thing. It says, "your data, health records, financial data, and credit card numbers are safe with us."
Business Leaders Respect the Investment: A good business partner would take every step necessary to protect their clients' data … and that is a financial investment. A good client knows this, because they are investing in their own cybersecurity defense, and they understand the financial reality of protecting data. But as companies make that financial commitment, leaders and decision makers will expect that other businesses are doing the same. Potential clients will respect your commitment to cybersecurity if you show them you are committed to protecting them. Good business leaders will not work with companies that don't take meaningful precautions to protect their data.
Someday, every company will invest in cybersecurity to protect its staff and their work. Eventually, all companies will be forced to make that same investment. But until then, we believe it is "good business" to communicate to your guests and your staff that your business has made a commitment to protect your clients' data. Cybersecurity is "good business" and it is our experience that clients will be more likely to consider you one of their "trusted few" if you act on your commitment to enforce cybersecurity.